No License - No Drive
Dedicated to getting unlicensed drivers off the road,
improving the safety of the road
and reducing honest drivers' insurance rates.
What can we do?
Don't drive without a license.
Do not lend your vehicle to anyone without a license. If someone wants to borrow your car, it's your responsibility to check that you're lending your car to a licensed, responsible driver.
If you know of an unlicensed driver operating a vehicle, call the police department immediately.
Contact your local police department. Let them know that you want unlicensed drivers off the road.
Contact the District Attorneys office. Let them know that six month sentences are inadequate for unlicensed drivers who kill. The idea that you can drive without a license and the "big risk" is six months in county jail if you kill someone is abhorrent!
Make this a public issue! Talk with your friends and associates. Let them know that this is a critical public health issue.
Obtain and display "No License No Drive" bumper stickers.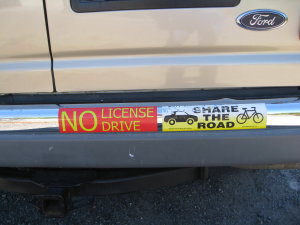 Thanks, Jim, for this photo of the bumper sticker.
To obtain five bumper stickers, send a $5 Paypal payment to mikevdp@mail.com. Include your mailing address. The $5 includes tax and postage.
© Michael Von der Porten 2011 All Rights Reserved
www.winepi.com/NLND-What-We-Can-Do.htm
updated: 09/23/11 11:10:17 PM